Faculty of Engineering, Kragujevac Collection home page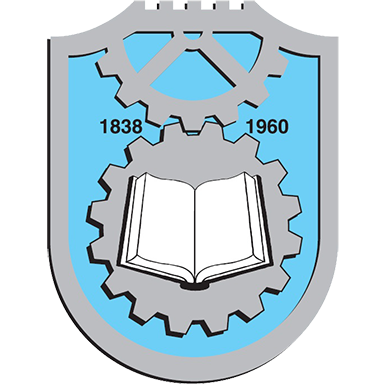 Since 1976, the Faculty of Mechanical Engineering from Kragujevac is a member of the University "Svetozar Markovic" of Kragujevac, now the University of Kragujevac. Since the foundation to the present, the Faculty has been intensively developing and still is developing with significant spatial, personnel and material recuperation.
© since 1960 - Faculty of Engineering University of Kragujevac
Collection's Items (Sorted by Submit Date in Descending order): 1 to 20 of 657
| Preview | Issue Date | Title | Author(s) |
| --- | --- | --- | --- |
| | 2021 | Energy benchmarking in educational buildings in the city of Kragujevac - possibilities for energy efficiency improvement | Radojevic, Ana; Nikolic, Danijela; Radulović, Jasna; Skerlic, Jasmina |
| | Apr-2022 | Enhancing production and sale based on mathematical statistics and the genetic algorithm | Nestic, Snezana; Aleksic, Aleksandar; Gil, Lafuente; Ljepava, Nikolina |
| | 2020 | Toplotno bilansiranje i povećanje efikasnosti korišćenja toplotne energije vrtića "Zeka" u gradu Kragujevcu, Srbija | Jovanović, Davor; Gordić, Dušan; Nikolić, Jelena; Jurišević, Nebojša; Josijevic, Mladen |
| | 1-Jan-2021 | Review of friction stir processing (Fsp) parameters and materials for surface composites | Milenković, Strahinja; Zivic, Fatima; Jovanović, Živana; Radovanovic Andreja; Ljusic Petar; Grujovic, Nenad |
| | 7-Sep-2021 | An In-Silico Corrosion Model for Biomedical Applications for Coupling With In-Vitro Biocompatibility Tests for Estimation of Long-Term Effects | Sustersic, Tijana; Simsek G.; Yapici, Guney; Nikolic M.; Vulovic R.; Filipovic, Nenad; Vrana, Nihal Engin |
| | 1-Jan-2021 | Design of IIR Lowpass Differentiators Based on Second-Order Allpass Filter Application | Krstic, Ivan |
| | 1-Jan-2021 | The Influence Of The Hydrogen Injection Timing On The Internal Combustion Engine Working Cycle | Grujic, Ivan; Doric J.; Abdullah, Oday; Stojanovic, Nikola; Davinić, Aleksandar |
| | 1-Jan-2021 | Analysis Of Thermal And Gas-Dynamic Characteristics Of Different Types Of Propellant In Small Weapons | Abaci W.; Hristov N.; Ahmed N.; Jerković, Damir D.; Savic, Slobodan |
| | 1-Nov-2021 | Two-intervals hardening function in a phase-field damage model for the simulation of aluminum alloy ductile behavior | Dunić, Vladimir; Zivković J.; Milovanović, Vladimir; Pavlović A.; Radovanovic A.; Zivkovic M. |
| | 1-Jan-2021 | Real-World Treatment Patterns of Lung Cancer in a Resource-Restricted Country: the Experience of Georgia | Kiladze, Ivane; Mariamidze, Elene; Jeremić Branislav |
| | 1-Nov-2021 | Comparative assessment of in vitro and in silico methods for aerodynamic characterization of powders for inhalation | Ignjatović, Jelena; Sustersic, Tijana; Bodić A.; Cvijić G.; Ðuriš J.; Rossi, Alessandra; Dobričić, Vladimir; Ibric S.; Filipovic, Nenad |
| | 1-Jan-2021 | Influence of different environments on the sliding friction of Ultra-high-molecular-weight polyethylene (UHMWPE) | Zivic, Fatima; Adamovic, Dragan; Mitrovic, Slobodan; Grujovic N.; Tanaskovic, Jovan; Stojadinovic I. |
| | 28-Oct-2021 | Epidemiological Predictive Modeling of COVID-19 Infection: Development, Testing, and Implementation on the Population of the Benelux Union | Sustersic, Tijana; Blagojević A.; Cvetkovic, Danijela; Cvetkovic, Aleksandar; Lorencin I.; Baressi Šegota, Sandi; Milovanovic, Dragan; Baskić D.; Car, Zlatan; Filipovic, Nenad |
| | 1-Nov-2021 | A cloud-based with microcontroller platforms system designed to educate students within digitalization and the industry 4.0 paradigm | Mijailović Ð.; Ðorđdević A.; Stefanovic, Miladin; Vidojević D.; Gazizulina, Albina; Projovic D. |
| | 17-Nov-2021 | Dynamic behaviour of a planetary reducer with double planet gears | Matejic, Milos; Blagojevic M.; Matejic, Milos |
| | 1-Dec-2021 | Loop-the-loop as a real tribomechanical system applicable in engineering education | Miljojkovic, Jasmina; Kočović, Vladimir; Košarac A.; Šimunovic̈ K. |
| | 1-Jan-2021 | Systemic therapy in recurrent or metastatic squamous cell head and neck cancer | Kiladze I.; Ozyigit, Gokhan; Dubinsky P.; Filipovic, Nenad; Jeremic B. |
| | 1-Dec-2021 | Digital training and advanced learning in occupational safety and health based on modern and affordable technologies | Vukicevic A.; Macuzic, Ivan; Djapan M.; Milićević V.; Shamina L. |
| | 1-Sep-2021 | A smart warehouse 4.0 approach for the pallet management using machine vision and Internet of things (IoT): A real industrial case study | Vukicevic A.; Mladineo, Marko; Banduka N.; Macuzic, Ivan |
| | 1-Jan-2021 | ENGLISH LANGUAGE LEARNING AND ECOLOGICAL COMMUNICATION IN THE EMERGING DIGITAL LANDSCAPES | Urlica Dragoescu, Alina Andreea; Boguslawska-Tafelska M.; Stefanovic, Sandra; Kamberi L. |
Collection's Items (Sorted by Submit Date in Descending order): 1 to 20 of 657
Even this small part of the achieved results shows that the Faculty of mechanical Engineering from kragujevac is an institution rich in tradition and with impressive results, recognized in domestic and foreign circles.